In the center of town!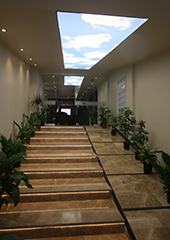 Our system works with the understanding that service shall be focused upon the satisfaction of our customers and our policy is that of reasonable pricing, smiling and clean service.
Our hotel, situated in the historical and tourist center of Edirne, possesses all characteristics, needed to satisfy the requirements of one city hotel. We have 36 luxury rooms, 6 suits, 6 family rooms and 3 deluxe rooms. In addition we have a spacious and airy breakfast salon and a fully equipped hall for seminars and conferences.
Our hotel possesses a spacious free-of-charge parking space for the cars of our guests and at request we can provide car valeting services. We provide carrying of luggage at arrival and departure. You can make use of the free-of-charge wireless internet (Wi-Fi) in all rooms and common premises.
Our hotel offers 24 hours room service and security, and the common premises are under constant camera surveillance. There is running hot water 24 hours and the rooms are supplied as standard with consumables such as towels, slippers, shampoo and shower gel, bonnets and others.
Expressing our gratitude for your having preferred our hotel, we would like you to be aware that we are always here, that we are honoured to bring to you satisfaction and happiness and we wish you much happiness.